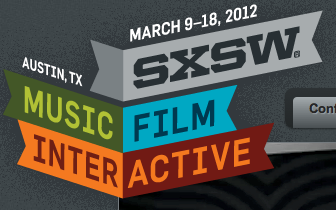 SxSW Interactive is this weekend and nerds, geeks, entrepreneurs and wannabes make their pilgrimage to Austin, Texas to present, learn, connect and criticize… and drink lots of margaritas and cheap beer.
Among the hundreds of presentations you will find a bunch of awesome ITP (It's not an acronym for Insane Tech Posse) Alumni sharing all that is awesome about the world of interactivity. Makes you wonder if they put something in the water at the 4th floor of NYU's 721 Broadway to produce all these innovators, thinkers and artists. Maybe I did not drink enough of it, which reminds me, I need to drink more of that clear tasteless stuff in general.
Anyway, here are some awesome presentations you should not miss at SxSW!
Christin Roman (ITP Alumna '07) and Josh Knowles (ITP Alumnus '07)
"The Freelance Rockstar"
http://schedule.sxsw.com/2012/events/event_IAP11765
Saturday, March 10
12:30PM – 1:30PM
Courtyard Marriott
Rio Grande Ballroom
Yasser Ansari (ITP Alumnus '10)
"The Concrete Jungle: Nature in an Urban Ecosystem"
http://schedule.sxsw.com/2012/events/event_IAP11236
Friday, March 9
2-3pm
Hilton Garden Inn
Dan Phiffer (ITP Alumnus '07)
"The Public is Present: Exhibition Subsites at MoMA"
http://schedule.sxsw.com/2012/events/event_IAP11978
Saturday, March 10
5-6pm
AT&T Conference Hotel, Classroom 203
Christina Arnold (ITP Student)
"Using Technology to Thwart Human Traffickers"
http://schedule.sxsw.com/2012/events/event_IAP8553
Sunday, March 11
12 – 12:15pm
Hyatt Regency Austin
Texas Ballroom 4-7
Nick Hasty (ITP Alumnus '08)
"Preserving the Creative Culture of the Web"
http://schedule.sxsw.com/2012/events/event_IAP100111
Sunday, March 11
3:30PM – 4:30PM
Austin Convention Center
Room 9ABC
Alex Rainert (ITP Alumnus '04) and Ron Goldin (ITP Alumnus '04)
"Design and the Mobile Startup"
http://schedule.sxsw.com/2012/events/event_IAP11295
Sunday, March 11
12:30pm – 1:30pm
Hilton Austin Downtown
Salon A
Greg Trefry (ITP Alum '06)
Social, Mobile, Location-Based Games Panel
http://schedule.sxsw.com/2012/events/event_IAP100397
Sunday, March 11
Sunday 5-6 PM
Palmer Events Center
Bryan Nunez (ITP Alumnus '97)
representing work developed by Nathan Freitas and Shawn Van Every
"Recognize This! Ethics of Mobile Face Tagging"
http://schedule.sxsw.com/2012/events/event_IAP10446
Monday, March 12
11am – 12pm
Hilton Austin, Downtown
Gilad Lotan (ITP Alumnus '07)
"The Math that Matters in the Real-time Web"
http://schedule.sxsw.com/2012/events/event_IAP12652
Tuesday, March 13
12:30-1:30pm
Omni Downtown
Sally Applin (ITP Alumnus '92), Gene Becker
"PolySocial Reality and the Enspirited World"
http://schedule.sxsw.com/2012/events/event_IAP11546
Tuesday, March 13
12:30-1:30
Driskill Ballroom
Mark Kleback, Ezer Lichtenstein, Ryan Viglizzo (ITP Students)
"SXSW Create"
http://schedule.sxsw.com/2012/events/event_IAP992393
They will have a 20 minute presentation/performance on DIY musical instruments.
Tuesday, March 13
11am – 6pm
Palm Park
Presentation Tent
Lily Szajnberg (ITP '12)
Claire Harlam (Tisch Film | Stern '11)
Heather Jack (Tisch Film | Stern '11)
Charles Rogers (Tisch Film '12)
"TECH UP: An interactive web-series for Subway Fresh Artist"
http://www.ifc.com/sxsw/schedule
Monday, March 12
5-7pm
IFC Crossroads House
SXSW AMODA Laptop Battle
Josh Knowles (ITP Alumnus '07) Performing Live Music
http://amoda.org/showcase/showcase.php?EventID=93
Saturday, March 10th, 2012
Mohawk (10th & Red River)
8pm-2am